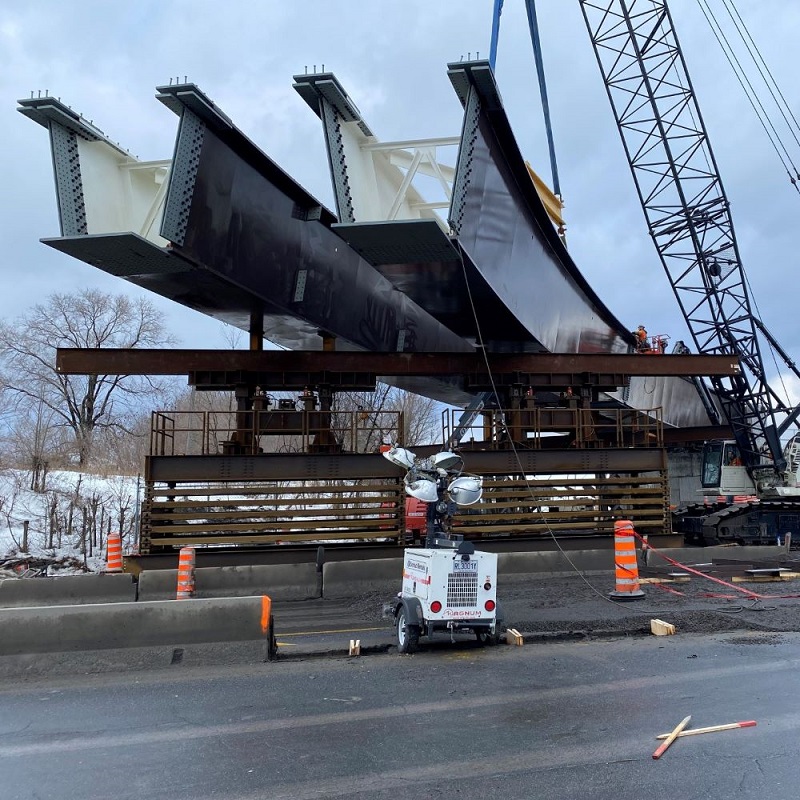 The Viau sector overpass is shaping up!
Last weekend, our teams carried out an impressive operation, to say the least, installing the box girders for the future overpass on Notre-Dame Street. This is the first key step in the project, which will eventually make it possible for more than 1,400 trucks a day to exit right onto Dickson/Souligny streets, relieving traffic on Notre-Dame Street as a result.
A public information session was held yesterday, Wednesday, February 16, to present the project's soil rehabilitation plan. Two other public meetings were held in 2019 and t 2021.
Quick figures:
Six installed, each weighing about 60 tonnes, for a total of about 360 tonnes
What it took: one 250-tonne crane and three hydraulic truck cranes
Time it took: Four days, then another three-four days for the bolting
A team effort
Many MPA teams were involved in carrying out this major project. Project Manager Stéfan Simard and his supervisory team coordinated the installation of the box girders with several stakeholders (e.g. City of Montreal, Police Department, MTQ, Renouveau La Fontaine, Vopak Terminals of Canada).
We also applaud the work of the environment, communications, real estate and procurement departments. Kudos to everyone!
Next steps
A number of other important steps are planned in the coming months leading up to the opening of the overpass:
In the next few weeks, crews will be bolting the beams, building the decking and forming the slab.
The Port Road will be closed from February 21 to October 30 while the Port Road is being raised. All trucks will have to detour via Notre-Dame Street. An entrance via Sicard Street, at the corner of Notre-Dame, will be available for truck drivers going to the Viau Terminal (Section 52).
The overpass with a temporary roadway is slated to be in service by the end of 2022.
Discover the steps of the operation in pictures
February 17, 2022