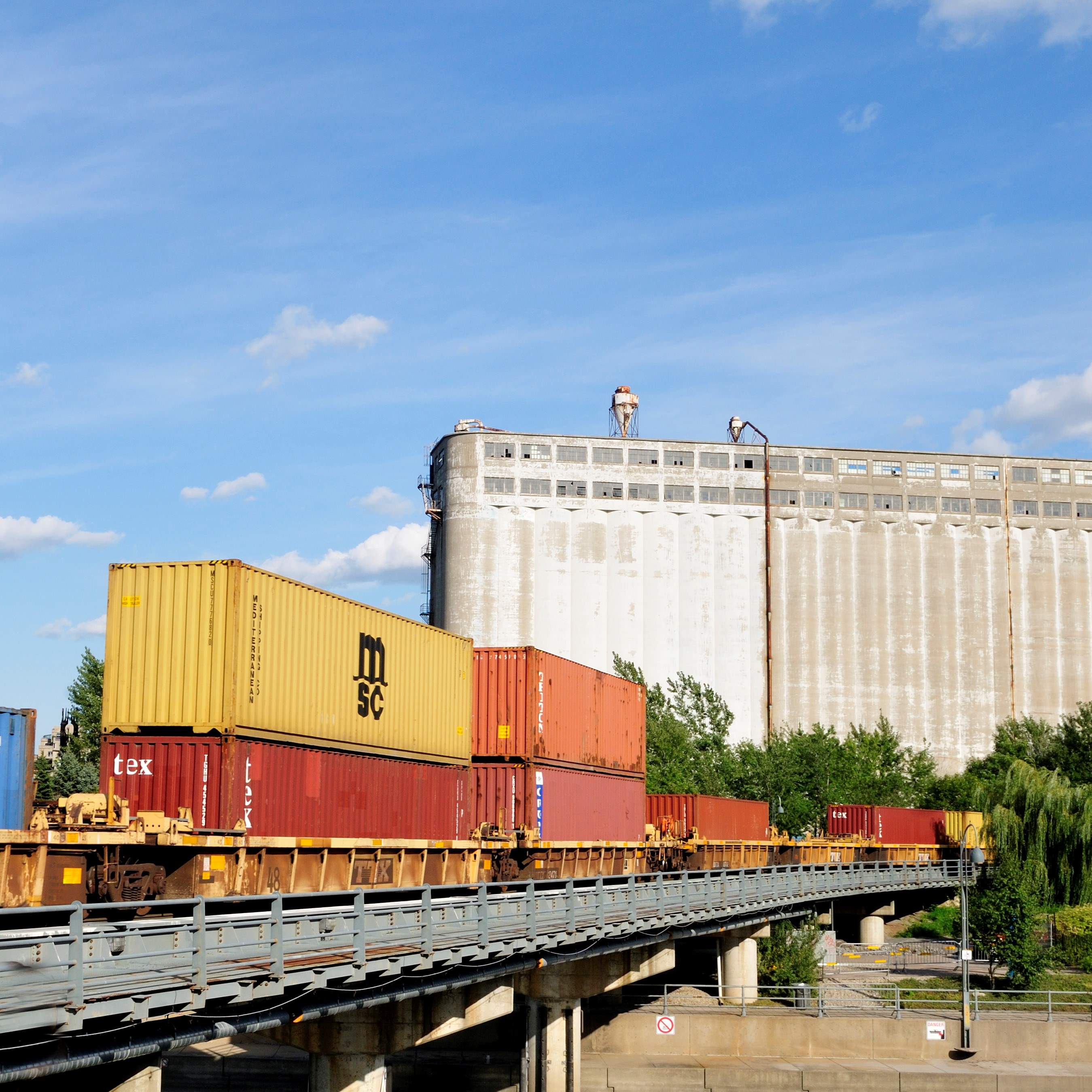 Rail capacity expansion project
This project will increase rail freight capacity to support the growth of the metropolitan region and the Canadian economy. The 3rd and final phase of the project is underway and is expected to be completed in November 2023.
Project overview
The Port of Montreal's rail network currently has close to 100 km of track to serve the fourteen terminals. Each year, it transports 2,500 km of railcars.
Project works include:
Installation of 6 km of additional railroad tracks and switches
Complementary work to develop the internal rail network.
Relocation of the Port Road
Project timeline
May 2017
$18.3 million in financial support from the Government of Quebec under its Maritime Strategy
April 2018
$18.4 million in financial support from the Government of Canada to optimize its intermodal network under the National Trade Corridor Fund.
June 2018
Awarding of the mandate to increase rail capacity to the firm CIMA+.
2019
Project design and planning phase
Field studies (noise, dust, fauna, flora and traffic)
2020
Integration and verification of plans and specifications
Finalization of the Environmental Impact Assessment (EIA)
As sustainability is at the core of the MPA's business processes, the project team identified several measures that will make it possible to improve the project on this front. They include:
Optimization of reuse of excavated soil as backfill (so that it is not necessary to move the soil by truck)
Use of recycled concrete in the foundation of the new Port Road
Use of recycled paving on the new Port Road
Composite railroad ties made of recycled plastic
2021
Construction tender process
Phase 1: sections 39 to 44 (between Alphonse D. Roy Street ans Bourbonnière Avenue)
Preparatory work
Sewer and aqueduct
Piling
Retaining wall
Electrical work
Railroad construction
Pavement work
2022
Phase 2: sections 32 to 39 (between Jacques Cartier Bridge and Davidson Street)
Preparatory work (March)
Sewer and aqueduct (April to July)
Piling (April to June)
Retaining wall (May to October)
Electrical work (April to December)
Railroad construction (May to July)
Pavement work (September and October)
2023
Phase 3: sections 24 to 32 (between Pied-du-Courant Park and Atateken Street)
Preparatory work
Sewer and aqueduct
Electrical work
Railroad construction
Pavement work
End of March: electrical work
April to September: main work
October and November: finishing work and dismantling of the work site

Mitigation measures
Once the Environmental Effects Evaluation is completed, the Montreal Port Authority team expects that the construction work will not have notable impacts on cohabitation with the adjacent neighbourhoods.
However, to avoid impacts on the surrounding population, mitigation measures have been included in the project and will be closely monitored and adjusted as needed. A resource person is specifically assigned to carry out this monitoring as part of the project. Here are some of the planned mitigation measures:
The work is mainly scheduled to take place on weekdays between 7 a.m. and 5 p.m. Occasional work may also be required during the day on weekends.
Spot checks will be conducted in the vicinity of the work site to monitor noise levels.
Particular attention will be paid to areas where there is machinery, which will be installed as far away as possible from dwellings.
Mobile machines will be equipped with white noise back-up alarms. In addition, the roads used by the trucks will be maintained and dust suppressants will be used as required.
The work site will be fully monitored at all times and as the work progresses, other mitigation
measures may be implemented as needed.