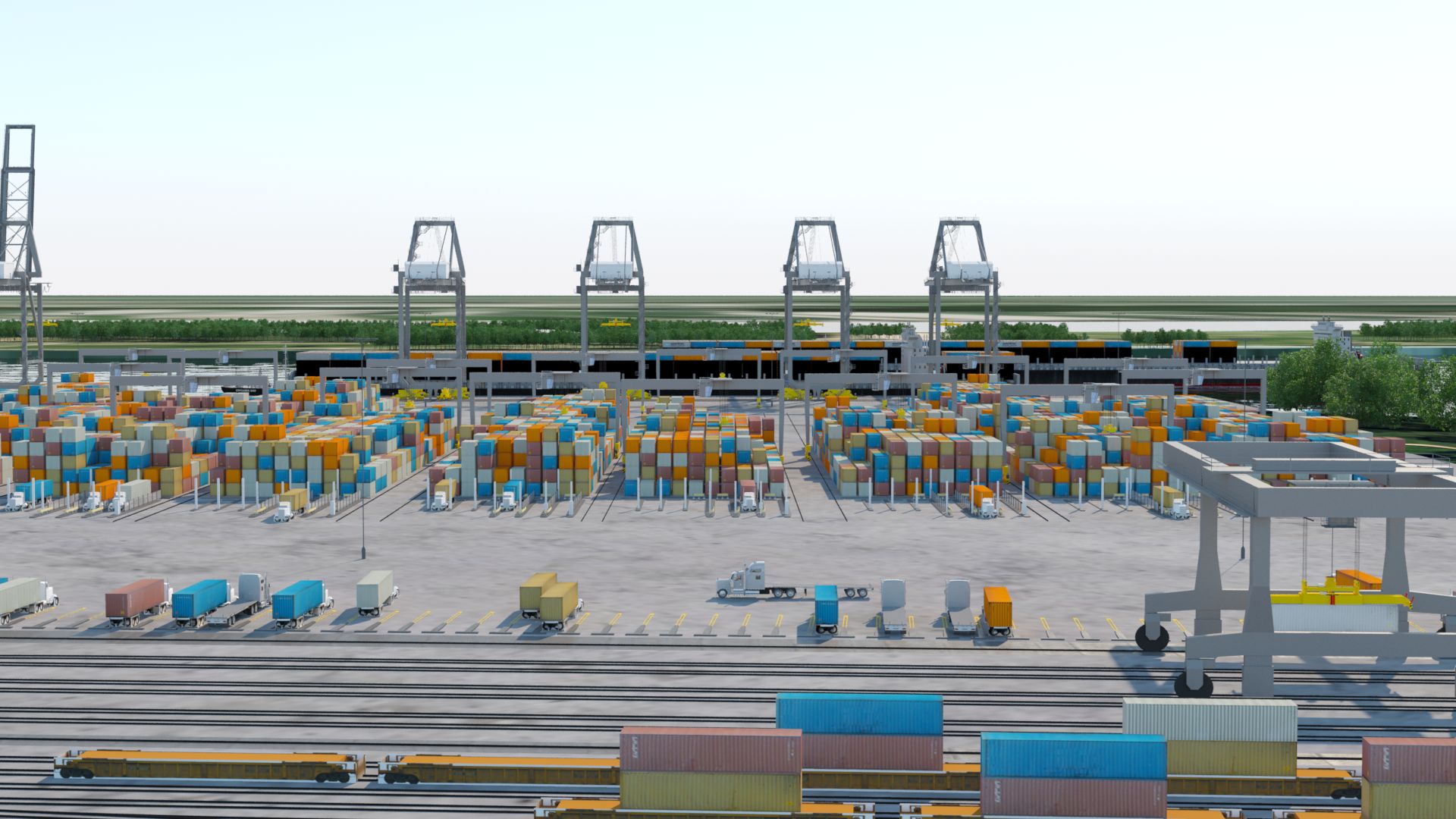 Supporting economic development
The Port of Montreal's expansion project in Contrecœur, on Montreal's South Shore, is designed to support the growth in containerized cargo volume in North America generated by consumer demand.
"For major shipping lines, Montreal is a full-capacity round trip. We are committed to that strategic positioning, and our expansion to Contrecœur will reinforce it."
— Guillaume Brossard, Vice President, Development, Marketing and International Relations
Room to grow
The expansion of the Port of Montreal in Contrecœur offers great opportunities for operators, freight forwarders or companies who want easy access to markets in Quebec, Ontario and the American Midwest. With its proximity to major highways and served by a Class 1 railroad, the future terminal offers a capacity of 1.15 million TEUs (Twenty-Foot Equivalent Units). This represents an increase of nearly 60% of the Port of Montreal's current containerization capacity.
An efficient route that minimizes greenhouse gases and brings you closer to your major markets: this is what the new terminal can offer, and much more.
Contrecœur and the Montreal South Shore—in the heart of the action!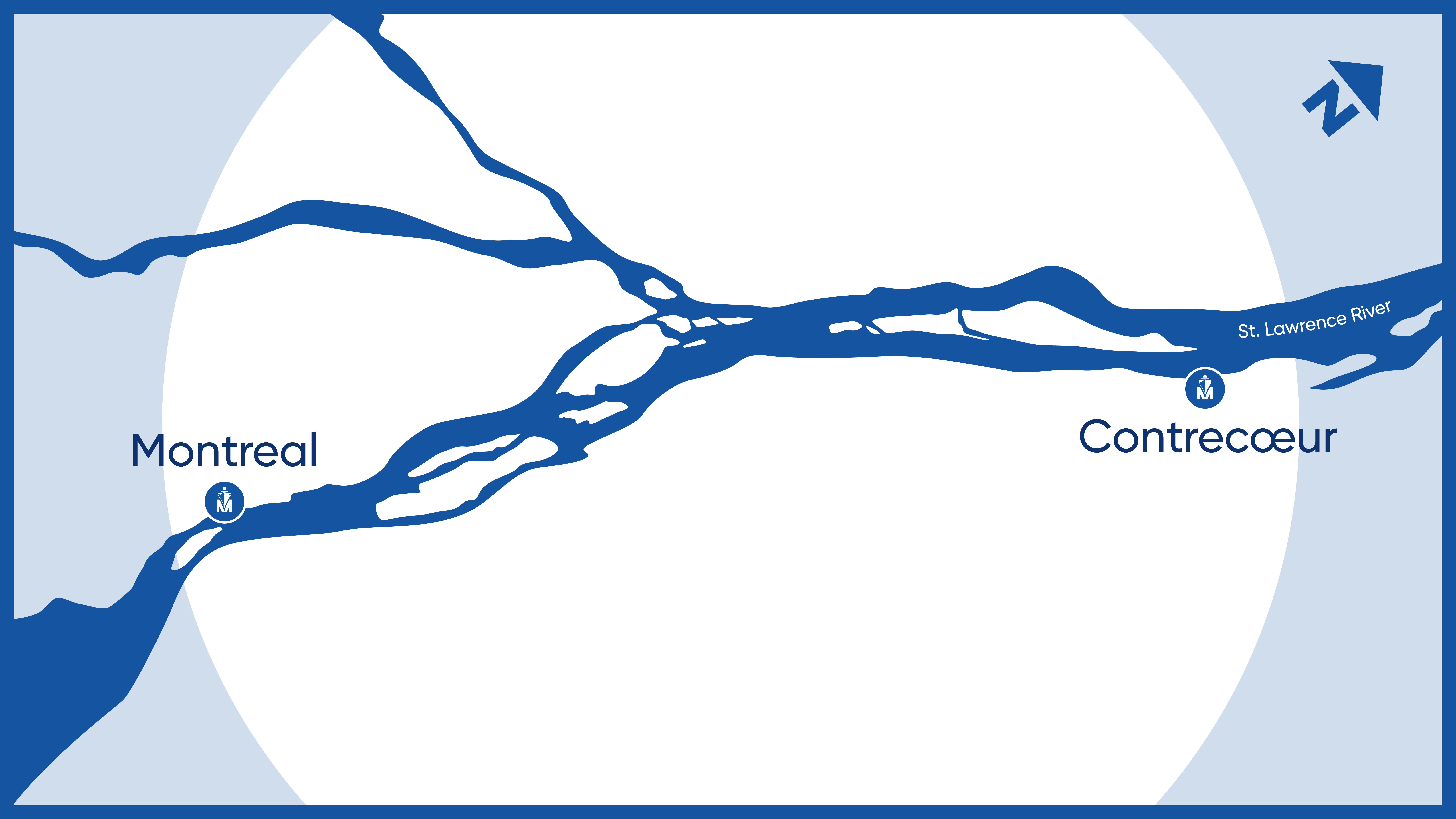 About 40 minutes from the Montreal island, the City of Contrecœur is located in a booming area. Located about 40 km (25 miles) from Montreal, this municipality has seen its population grow by more than 50% in ten years, and now has more than 10,000 residents. Its proximity to the Greater Montreal area, its efficient highway service and its industrial sector located on the outskirts of residential areas make it an ideal area for port expansion. The Port of Montreal is already present in the area with a bulk terminal that has been established for decades.
Contrecœur is part of the Marguerite-D'Youville RCM (Municipalité Régionale de Comté), a grouping of six of the most dynamic municipalities in the province of Quebec with one of the most robust demographic and economic growth. In recent years, several companies in the manufacturing, logistics and distribution sectors have chosen the greater Montreal South Shore to establish themselves or expand. This developing ecosystem is expected to grow even more with new port facilities, which represent interesting business opportunities for entrepreneurs in these sectors. In addition to this ecosystem, First Nations businesses could also benefit from these business opportunities.
To find out more:
Ville de Contrecœur – Entreprises et gens d'affaires (in French)
MRC de Marguerite d'Youville – Développement économique (in French)
The procurement process
In November 2021, the Montreal Port Authority launched an international procurement process for its Contrecœur expansion project. The purpose of this process is to select a private partner who will carry out the project under a DBFOM (design, build, finance, operate and maintain) approach on behalf of the Port of Montreal.
The first phase, the Request for Qualification (RFQ), was designed to solicit interest from groups wishing to participate in the eventual tender. From this process, bidders were selected in May 2022 under the Request for Proposals (RFP) phase to receive formal proposals for the project under a DBFOM approach.
The procurement process timeline
Q4 2021
Request for qualification
Q2 2022
Announcement of qualified proponents
Q3 2023
Private partner announcement
The vast majority of the construction work will be awarded by the private partner through its own procurement processes. Some work will still be the responsibility of the MPA. Several types of work will be required to complete the project. The document Types of work - Contrecoeur terminal project presents a non-exhaustive list.
Suppliers and professional services
If you would like to express your interest as a potential supplier of services to the Montreal Port Authority or its partners and affiliates, please complete the form below to be added to our registry. Please note that completion of this form does not represent a request for proposal or a contractual commitment, nor does it guarantee the provision of goods or services for the project. Suppliers will be required to follow the protocols established by the prospective private partner or the Montreal Port Authority in the procurement process.