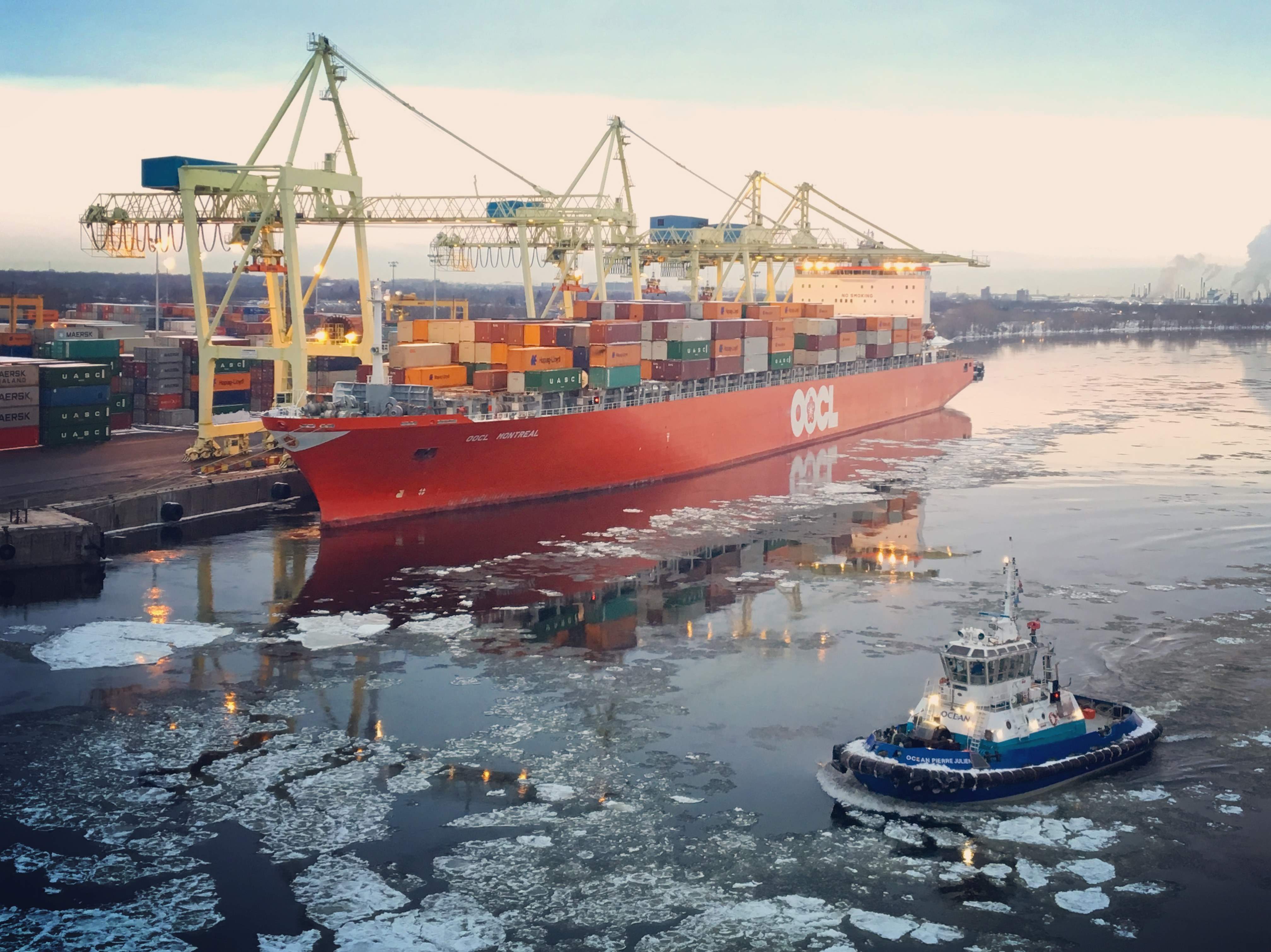 Services and fees
Consult the list of tariffs and fees applicable to the Port of Montreal and forms to request services.
Pre-Arrival Notification at the Port of Montreal
The owner or the individual responsible for a vessel must send the Montreal Port Authority (MPA) Harbour Master's Office the Pre-Arrival Notification form 96 hours prior to the vessel's expected arrival. The form can be emailed to: This email address is being protected from spambots. You need JavaScript enabled to view it.
This standardized form is used by the following organizations: Canada Revenue Agency, Immigration Canada, Agriculture Canada and the MPA Harbour Master's Office.
General rates
For more information about these tariffs, please contact the Marketing Department at This email address is being protected from spambots. You need JavaScript enabled to view it..
Water Service
To obtain drinking water, the person responsible for the vessel must request this service from the Control Centre: 514 283-7022.
Water service will be provided at all times. To request the water service please advise the Harbour Master's Office before 3 p.m. the day prior to the service required. Installation of hoses will be done early in the morning and they will be removed upon completion of service, preferably in early afternoon. in case of emergency only, water can be provided at any hour. However, the extra costs involved will be billed. Furthermore, even if the request for water is made by a supplier of service, the bill will remain the shipowner's responsibility.
ELECTRICITY SERVICE
To obtain electricity for a laid-up vessel, the person responsible for the vessel must request this service from the Control Centre: 514 283-7022.
The connection time services are as follows: Monday to Thursday, between 7 a.m. and 3 p.m., Friday, between 7 a.m. and noon.
View the detailed procedure to request electrical service:
ELECTRICAL SERVICE FOR LAID-UP VESSELS
View the N-6 notice about the electricty service fees:
Fees for various services
Refer to the applicable fees for various services available at the MPA (grey water management, permits, labour services, rentals).
Pilotage
Pilotage is compulsory on the St. Lawrence River. Pilots board incoming vessels at Les Escoumins pilotage station (48°19' N, 069°25' W). On the way to Montreal, pilot substitutions are made at Quebec City, and again at Trois-Rivières.
The river pilots are responsible for the berthing and casting off of vessels. Port pilots are responsible for all movements within the Port of Montreal.
The captain of a vessel leaving the port must send a first departure notice to the Laurentian Pilotage Authority 12 hours before the estimated time of departure (ETD) and a final notice 4 hours prior to departure, either confirming or amending the ETD. The captain of a vessel planning to move anywhere within the Port of Montreal must give 3 hours' notice.
These notices must be called in by phone to the Dispatch Centre at 1 800 361-0747 or 514 496-2155, or by VHF. For more information, please refer to Notices to Mariners (Notices 1 to 46), Annual Edition.
Visit the Laurentian Pilotage Authorit
Towing
Three companies offer towing services in the port:
Océan Remorquage Montréal Inc., a subsidiary of Le Groupe Océan Inc., which owns a modern fleet of 34 tugs ranging from 1200 HP to 8000 HP. T: 514 849-2221 Visit Ocean Harbour Towing
www.groupocean.com
McKeil Marine Limited, which has a fleet of 25 tugs ranging from 800 HP to 6000 HP as well as a large number of barges for special project cargo, transport and marine construction. T: 514 640-4970
www.mckeil.com
Montreal Boatmen/Les Chaloupiers de Montreal is a subsidiary of the Urgence Portuaire Group. It operates a towing and barge service at Section 115, the main anchorage location at the Port of Montreal. It provides a full range of ship anchorage services at Pointe-aux-Trembles, Vickers, Montreal East, Sorel and Lanoraie. In addition to anchorage services, their tugboats can carry heavy packages, provisions and project cargo, also collect waste and oily residue. The hold and tank cleaning service are also available.
T: 514 640-8847 / 833 913-8847
This email address is being protected from spambots. You need JavaScript enabled to view it.
LOADING OF LNG
For LNG refuelling, the following form must be completed:
LOADING OF LIQUIFIED NATURAL GAS
BUNKERING
Different options are available for bunkering vessels:
LOADING OF CAUSTIC SODA
To proceed with caustic soda, you must complete the form entitled Loading of Caustic Soda