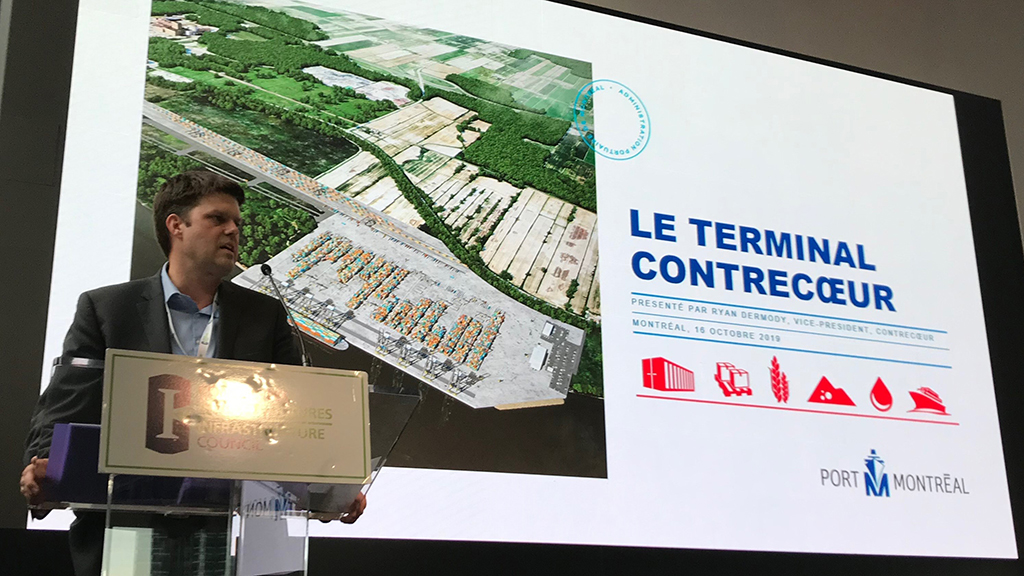 The Contrecœur port terminal project is attracting international interest
While building momentum in its early stages of development, the Contrecœur port terminal project is proving to be a sound and relevant project from the viewpoint of actors in the international engineering and infrastructure sectors.
A major presentation on the project was made at the 11th edition of the Infrastructure Council's Grand Forum, held from October 15 to 17 in Montreal. Under the theme Environment and Sustainable Development, the event featured a presentation by Ryan Dermody, Vice-President, Contrecœur at the Montreal Port Authority, and a panel discussion with Dominique Amyot-Bilodeau, Partner in the Business Law Group of McCarthy Tétrault, Dr. Nathalie Drouin, Professor in the Management and Technology Department at ESG UQAM and Executive Director of KHEOPS, and Pierre-Olivier Perras, President of Power Energy Corporation. The panel was moderated by Michel Leblanc, President and CEO of the Chamber of Commerce of Metropolitan Montreal. The event provided an opportunity to address the project's planning and implementation in light of the three pillars of sustainable development: economic, environmental and social.
Furthermore, on behalf of the Montreal Port Authority, President and CEO Sylvie Vachon received a Meritas Award from the Infrastructure Council for the Contrecœur project. Meritas Awards go to the individuals and organizations who have most successfully distinguished themselves through their outstanding achievements in the development and management of infrastructure projects in Canada.
The Contrecœur port terminal project is also the subject of a presentation by Ryan Dermody at the 11th North American Strategic Infrastructure Leadership Forum, which takes place in Washington DC on October 21 and 22, with the stated aim to present the 50 largest infrastructure projects in the world in terms of competitiveness, potential benefits and financial strength.