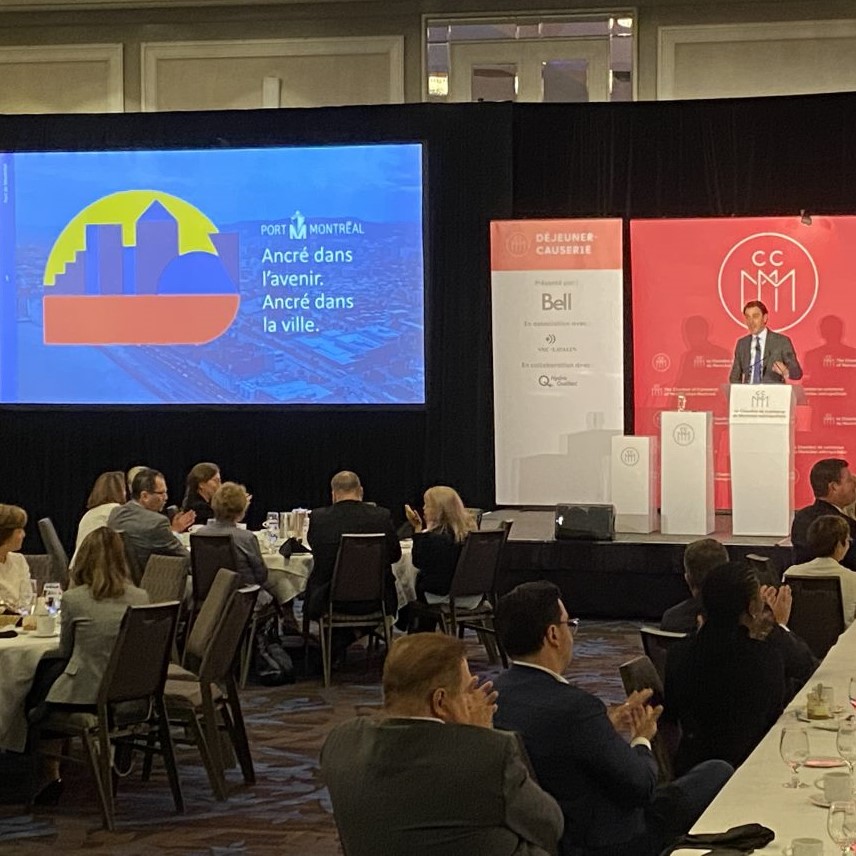 Martin Imbleau addresses Chamber of Commerce of Metropolitan Montreal
Montreal Port Authority President and CEO Martin Imbleau addressed the Chamber of Commerce of Metropolitan Montreal yesterday, Wednesday, September 8. "Anchored in the Future: A Port to Help Navigate a Sustainable Recovery" was the subject of his talk.
Some 250 people attended the event at the Sheraton Centre. In his first address to the Chamber, Mr. Imbleau updated the audience on a variety of topics of interest and projects at the port, most notably:
The importance of a port to the public and how it contributes to the success of users and citizens;
The role of the port and its benefits for the local, regional and national economy;
The complementary roles of the Port of Montreal, an urban port, and Montreal, a port city;
The port's major expansion at Contrecoeur, including special measures for biodiversity protection;
Processes and objectives for greening facilities, reducing GHG emissions and moving toward low-carbon refuelling solutions.
Mr. Imbleau also discussed his vision for the Port of Montreal's future, a vision based on dialogue and processes involving citizens, port partners and businesspeople to facilitate the attainment of United Nations Sustainable Development Goals by 2030.
"To improve, to do more, we have to understand one another. To be the best port we can be in the best city possible, we must work together, maintain an ongoing dialogue and share our various perspectives. This is how we will become an even more influential player on the world stage." — Martin Imbleau, President and CEO, Montreal Port Authority.