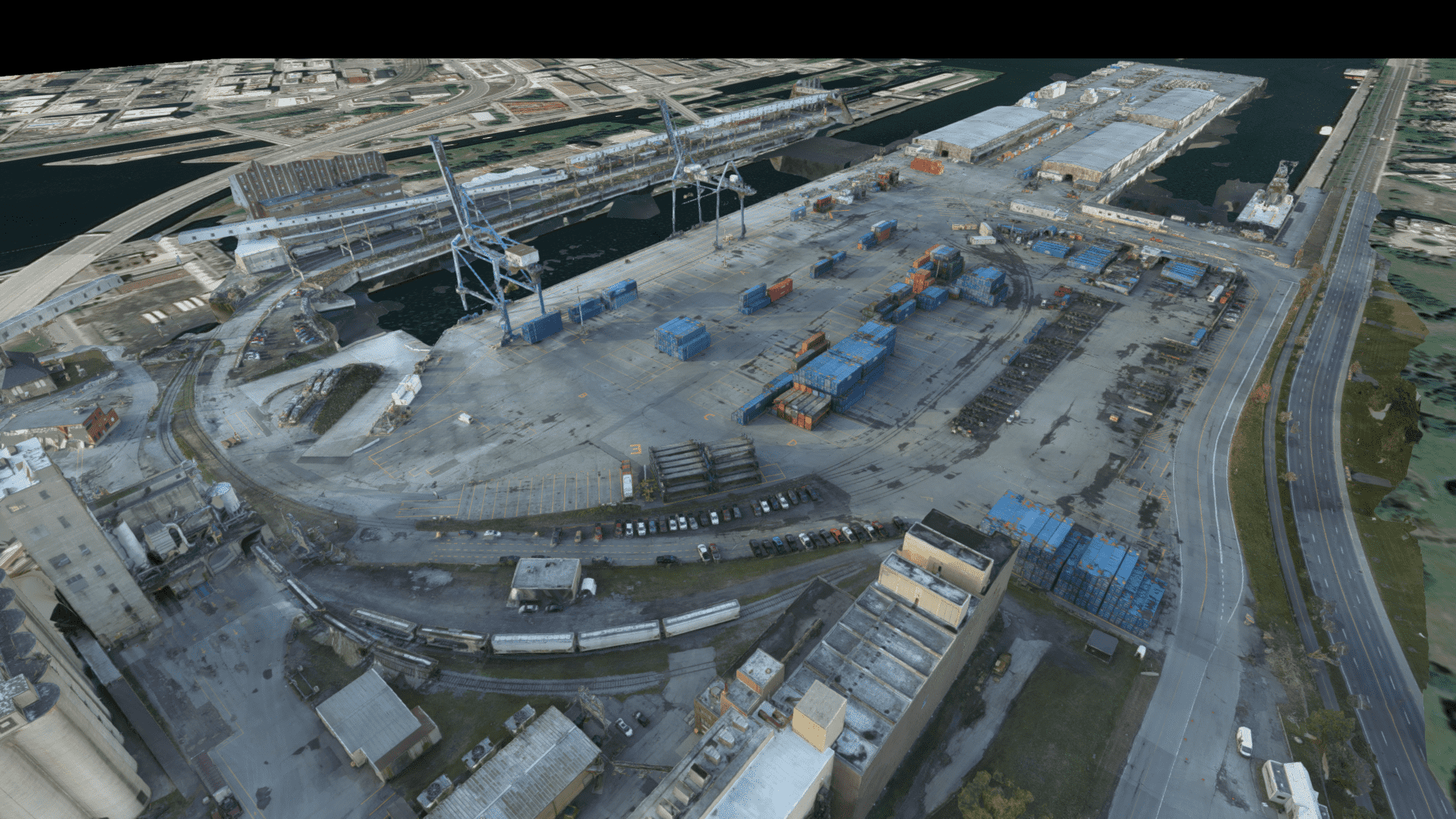 PreVu3D: rethinking Port space
What happens when you challenge a startup formed at the École de technologie supérieur (ÉTS)? A sea change in how we see! The Port's extensive 965-hectare territory, where silos, hangars, terminals, rail tracks and thousands of trucks and ships coexist, has just been turned into virtual reality.
Project inception
The story began four years ago. A mechanical engineer by training, Nicolas Morency worked for Eolpack, a consulting engineering firm, on a plant development project in the United States. While trying to present a three-dimensional model of the space to its clients, the team hit a wall. It was impossible to get an accessible and practical 3D tool to graphically represent its structural layout.
From there, the young man tackled the issue and developed expertise: "It started with a problem, we found a solution." Drawn to virtual reality and 3D digitization, he set up the project to develop software where the 3D modelling of space is based on digitization data and delivered in a compact format that can be easily shared with collaborators.
Once he created his new company, Nicolas brought in Centech, which helps startups get up and running.
Port of Montreal: a great contract in terms of scope and technological challenges
This is when he got involved with the Port of Montreal and signed his "biggest contract ever in terms of scope and technological challenges." The objective was to take very high quality images of a large industrial space using a drone, use photogrammetry technology to reconstruct a 3D model, and then integrate the images into a lightweight computer program where users can move around as if they were a video game. "Space can be explored in different modes: from a bird's eye view, from a first-person perspective or a third-person viewpoint."
This is how the software lets us plan spatial redevelopment as if we were playing Minecraft: move a machine here, push back the walls or lay pipes there, all in a space reconstructed down to the closest millimetre.
Obviously, the challenges are considerable: the huge surface area, the scale of the operations, the number of people on site and the type of equipment required for the image capture, i.e. a drone that can take 42 Mp quality images. "But it's challenges like the one launched by the Port of Montreal that have pushed us to develop techniques that did not exist elsewhere." To do so, PreVu 3D teamed up with ARA Robotique, also from Centech and specialized in drones.
A tool with all kinds of possible uses
The possibilities for use don't stop at modelling. For example, using the virtual model, the company created a training tool for the Port of Montreal's Safety and Fire Prevention Department that puts an employee in an emergency scenario, such as a fire, a gas leak or an accident. Actions must be taken within a specific timeframe to control the situation. Depending on the training needs, factors such as the degree of difficulty, the wind direction and on-site components can be varied.
This also means that it will soon be possible to tour the Port in augmented reality at the Port Centre, located at the Grand Quay of the Port of Montreal. At the next exhibition, visitors will enjoy an unprecedented view of Port facilities, and locals will get to rediscover the area in a brand new way!
It goes without saying that the company is booming. "There were two of us when the contract was signed. Soon we'll have sixteen engineers working full time." The Montreal startup keeps landing projects and will soon take its first steps outside the privileged space of the Centech. After all, there's a whole world out there to model.
To learn more about PreVu3D, visit their website: https://www.prevu3d.com/