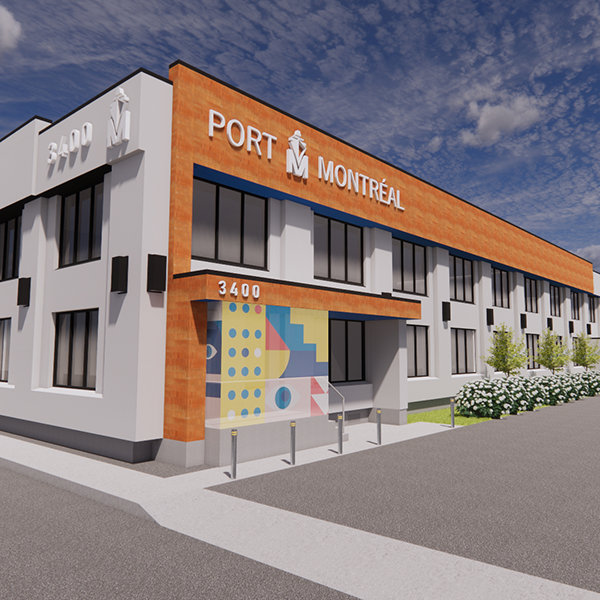 The Port of Montreal wins recognition for the new façade of its building on Notre-Dame Street
The Port of Montreal was awarded an AERMQ Prix Distinction for the new façade of its building at 3400 Notre-Dame Street East.
The award was presented by the Quebec association of building enclosures and wall cladding, the AERMQ, which annually recognizes projects that stand out for their architecture, design and originality, as well as for their complexity and the challenges they represent. The project was carried out by contractor François Racine for RMGL and architect Lorraine Ménard of Giasson Farregut Ménard Architectes.
Insulation and waterproofing
Located at 3400 Notre-Dame Street East, this building that houses the Port of Montreal's infrastructure management, mechanical workshops and railway operations was plagued by infiltration problems behind the wall cladding. The work involved tearing out the whole frontage so that a new façade could be constructed.
Crews also insulated the building to improve its energy performance. "For the wall cladding, we used the same materials as at the Grand Quay, namely aluminum panels and a sprayed urethane insulation system," said Jean-Claude Hébert, building supervisor and project manager. "These materials offer many benefits. They're airtight, have a high thermal resistance value and act as a vapour barrier." In addition, the crews seized the opportunity to replace all the building's windows, which were over 35 years old.
City-port interface and brand image
The visual aspect was not overlooked: the lighting was completely overhauled and a new Port logo was installed. The Port of Montreal's image has been integrated through blue accents around the windows, as well as tinted glazing. Landscaping will also be completed shortly.
In addition, the façade has been covered with a finish similar to Corten steel, also used in the Viau overpass project. These visual improvements are consistent with the MPA's drive to improve the city-port interface, and were suggested by Groupe BC2.
Particular attention was paid to the choice of materials, which were sourced locally and made in Quebec.
Kudos to the participating teams!
June 1, 2023