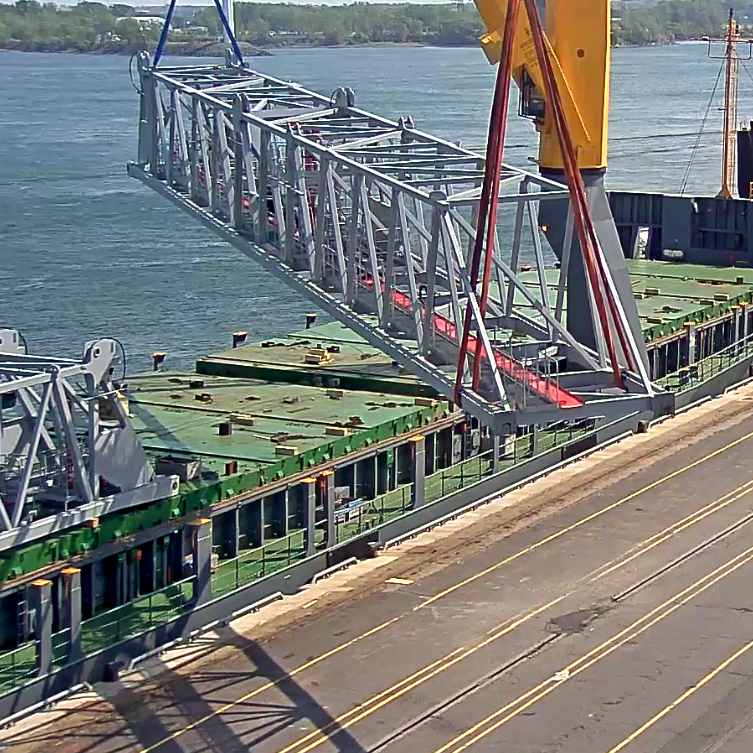 Two new Post-Panamax electric gantry cranes arrive at the Port of Montreal
On Wednesday, August 25, two huge, high-performance electric gantry cranes were offloaded at the Port of Montreal's Cast Terminal.
These are the first two of a series of four, with the remaining two due for delivery in the first quarter of 2022.
Built in Ireland by Liebherr Container Cranes, these next generation cranes will enable terminal operator Montreal Gateway Terminals Partnership (MGTP) to benefit from the latest and most efficient technology.
Performance
Able to handle the largest container vessels currently calling at the Port of Montreal, post-Panamax vessels up to 20 containers wide, the new ship to shore gantry cranes boast a safe working load (SWL) of 65 tonnes under twin lift spreader, 88 SWL under the crane hook, an outreach of 55.38 m, a span of 15.24 m and a backreach of 18.29 m. Offloaded from the FWN Solid, they will significantly improve the operational capacity, service level and productivity of the Cast container terminal and the Port of Montreal.
Sustainability
The new gantry cranes also deliver serious advantages in terms of energy consumption. By using electricity more optimally and efficiently, they are in line with the general approach adopted by the Port of Montreal and its partners to improve the energy efficiency of port facilities.
To reduce the visual impact and foster harmonious cohabitation with neighbouring communities, the new gantry cranes have been painted grey.
In related news, ten other electric rubber-tired gantry cranes (ERTG) on site since December 2019 have so far cut GHG emissions related to this type of equipment by 90%.
"Montreal Gateway Terminals Partnership (MGTP) is proud to be able to offer its customers a highly-efficient, leading-edge set of equipment to better serve them. In time, MGTP's two container terminals will be equipped with 12 high-performance cranes, which is the largest fleet of electric rubber-tired gantry cranes in Canada."—Michael Fratianni, President and Chief Executive Officer of MGTP
"It is a real asset that the Port of Montreal can count on its partners to share the same vision of the future, in which the efficiency and reliability of the service offered are combined with an ongoing concern for sustainable development. We welcome the acquisition of these post-Panamax electric cranes by MGTP and the investment in quality infrastructure as the container sector grows."—Martin Imbleau, President and Chief Executive Officer of the MPA