The 2023 cruise season is officially underway at the Port of Montreal!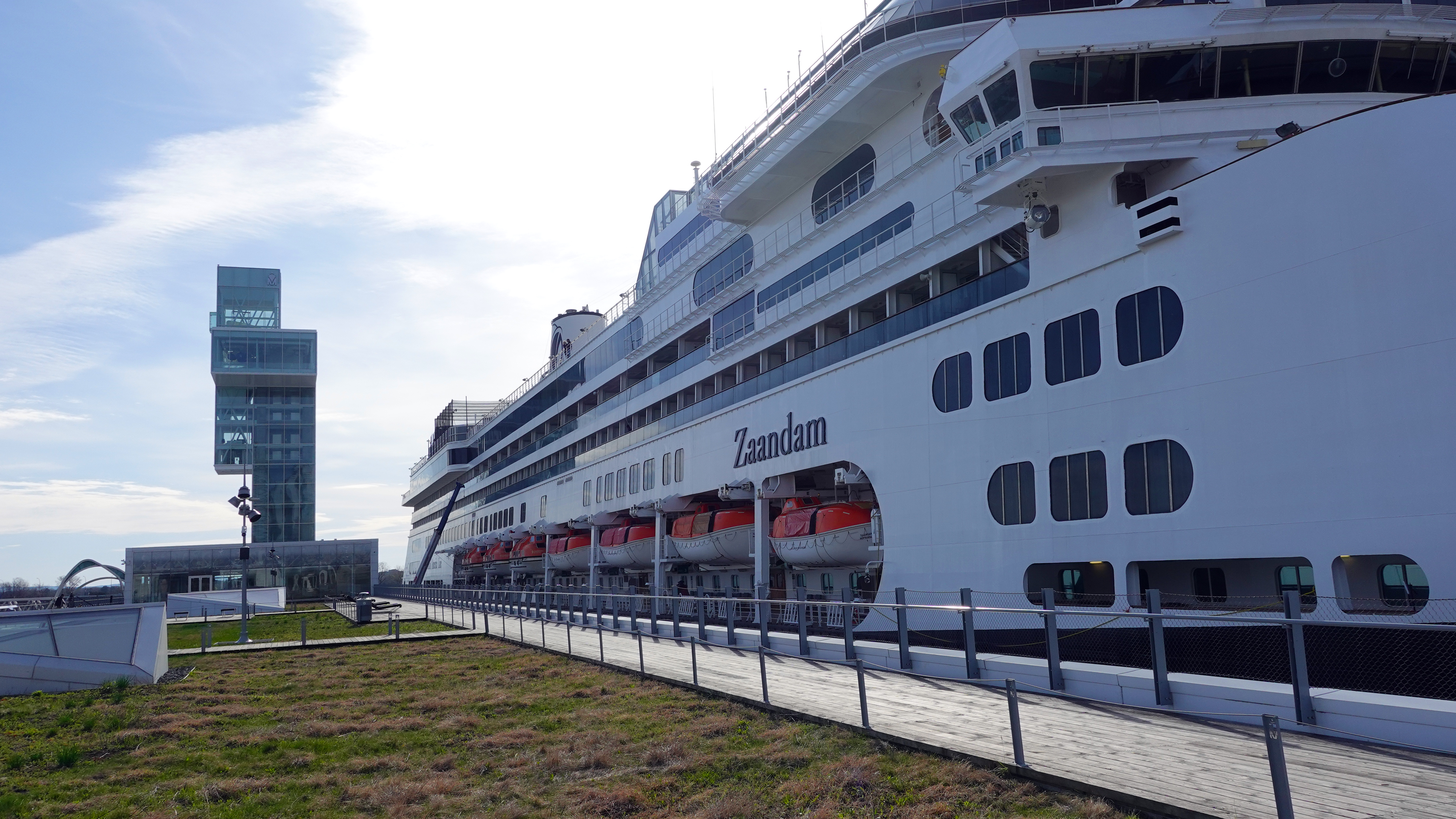 With new ships, more passenger visits and record shore power use
Montreal, April 29, 2023 — The 2023 cruise season at the Port of Montreal got off to a great start this morning with the arrival of Holland America Line's Zaandam, one of the largest cruise ships that visits the Port of Montreal, with a capacity of 1,440 passengers. To mark the occasion and honour the 150th anniversary of Holland America Line, a plaque was presented to the captain of the Zaandam, Ane Smit. The season will run until October 30, 2023, and the number of international passengers is expected to exceed 45,000, up nearly 20% more than last year.
A record number of shore power connections
With 51 visits (five more than last year) featuring 38 embarking and disembarking operations and 13 stopovers, the season will generate $25 million in economic impact.
Confirming the resolve of cruise lines to lower their environmental impact, several of the scheduled ships are equipped to use the shore power supply facilities that have been available at the Port of Montreal's Grand Quay since 2017. This technology makes it possible for berthed cruise ships and wintering vessels to turn off their engines, resulting in an average reduction of five tonnes of GHG emissions with each connection. Eight different ships, from the Holland-America, Regent Seven Seas, Hapag-Lloyd and Viking cruise lines, on altogether 19 visits this season will be able to plug in and power up this way.
"The cruise sector is proving its attractiveness and dynamism in Montreal. Not only is the number of passengers up from last year, gradually returning to a level of traffic comparable to our pre-pandemic levels, but more and more of the cruise ships that stop at the Port are using our shore power supply system. The Port of Montreal is one of only 25 in the world to provide this service to cruise ships. As well as generating major economic benefits for the City, the cruise industry is a tourism sector that is transitioning to more energy-efficient and sustainable practices," said Martin Imbleau, President and Chief Executive Officer of the MPA.
"Every year, the docking of the first cruise ship kicks off the long-awaited summer tourist season. Montréal is delighted to see the arrival of thousands of cruise passengers, who will add to the lively atmosphere of the Old Port as they enjoy its many cultural activities. We are particularly excited about the on-dock shore power at our cruise terminal, which aligns perfectly with the values of the sustainable destination that we are," said Yves Lalumière, President and CEO of Tourisme Montréal.
Many first visits
Five ships will call at the Port of Montreal for the first time this season:
Hapag-Lloyd's Hanseatic Inspiration (230 passengers)
Oceania's Vista (1,200 passengers)
Peace Boat's Pacific World (1,950 passengers)
Viking Ocean Cruises' Viking Neptune and Viking Mars (930 passengers each)
Of note, the ship The World, that last visited in 2015, will be in Montreal from September 25 to 27, 2023. What makes this 165-residence ship distinctive is that passengers own their own cabin. Imagine having a condo on the sea!
Marking Holland-America Line's 150th anniversary with a regular at the Port
Piloted by Netherlands native Captain Ane Smit, who has been with Holland America Line for 23 years, the Zaandam is the first cruise ship to visit the Port of Montreal in 2023.
Celebrating its 150th anniversary this year, Holland America Line has become the largest cruise line to visit Montreal in recent years. In fact, between 2010 and 2022, Holland-America Line ships made 136 visits to Montreal and brought 337,111 passengers, representing 54% of all passengers in Montreal during this period. In other words, more than one out of every two passengers arrived or departed from Montreal aboard a Holland-America Line cruise ship.
Click here for the full schedule of cruise ship arrivals and departures at the Port of Montreal
About the Port of Montreal
Operated by the Montreal Port Authority (MPA), the Port of Montreal is the second largest port in Canada and a diversified transshipment centre that handles all types of goods: containerized and non-containerized cargo, liquid bulk and dry bulk. The only container port in Quebec, it is a destination port served by the largest shipping lines in the world. It is also an intermodal hub with a service offering that is unique in North America, featuring its own rail network directly dockside connected to Canada's two national rail networks. The MPA also operates a Cruise Terminal and a Port Centre.
The MPA factors economic, social and environmental components into its corporate initiatives. This commitment is governed by a sustainable development policy whose guiding principles focus on involvement, cooperation and accountability. Port activity supports 19,000 jobs and generates $2.6 billion in economic benefits annually.
About Tourisme Montréal
Tourisme Montréal is a 100-year-old private, non-profit organization that works to position Montréal as an international-calibre leisure and business travel destination. Uniting nearly 1,000 businesses and organizations working directly or indirectly in tourism, Tourisme Montréal plays a leading role in the management and development of Montréal's tourism business, and makes recommendations on issues surrounding the city's economic, urban and cultural development. For more information, go to www.mtl.org.
— 30 —