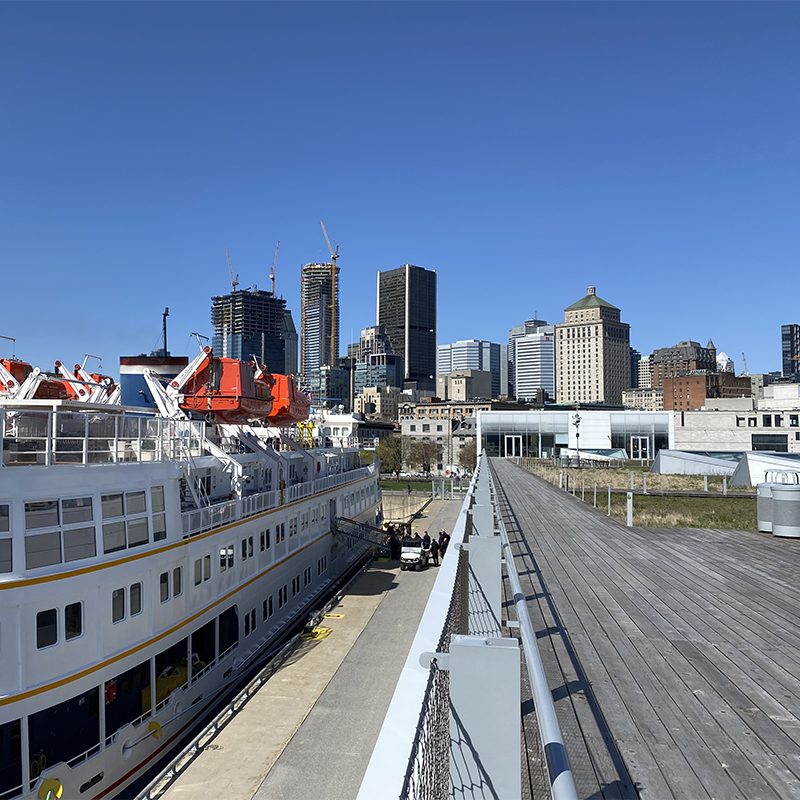 Cruise passengers returning in greater numbers to the Port of Montreal
The upcoming cruise season from April 29 to October 30 will include a total of 51 calls (five more than last year), with 39 boarding and disembarking operations and 12 stopovers. This means that we expect to see an increase in the number of passengers compared to 2022, which is good news considering the significant economic benefits of this tourism sector.
Of special note, Holland-America, Regent Seven Seas, Hapag-Lloyd and Viking will be sending ships that can use shore power, which we have been offering at our cruise terminals since 2017. This technology lets cruise ships and wintering vessels turn off their engines while docked, while maintaining air conditioning, refrigeration, security systems and services for the duration of their stay (an average of 10 hours for cruise ships). It reduces noise, vibration, smoke and GHG emissions from diesel engine combustion gases by approximately five tonnes of GHG emissions at each connection, and more than 2,500 tonnes each year.
Several ships will be calling into Montreal for the first time:
Hapag-Lloyd's Hanseatic Inspiration (230 passengers)
Oceania's Vista (1,200 passengers)
Peace Boat's Pacific World (1,950 passengers)
Viking Ocean Cruises' Viking Neptune and Viking Mars (930 passengers each)
Last but not least, the ship The World, whose last visit dates back to 2015, is returning this season. This vessel is unique in that it allows passengers to own their own cabin, a bit like having a condo but on the sea.
A great season with fine prospects!
Check out the full schedule at Arrivals and departures (port-montreal.com).
February 8, 2023