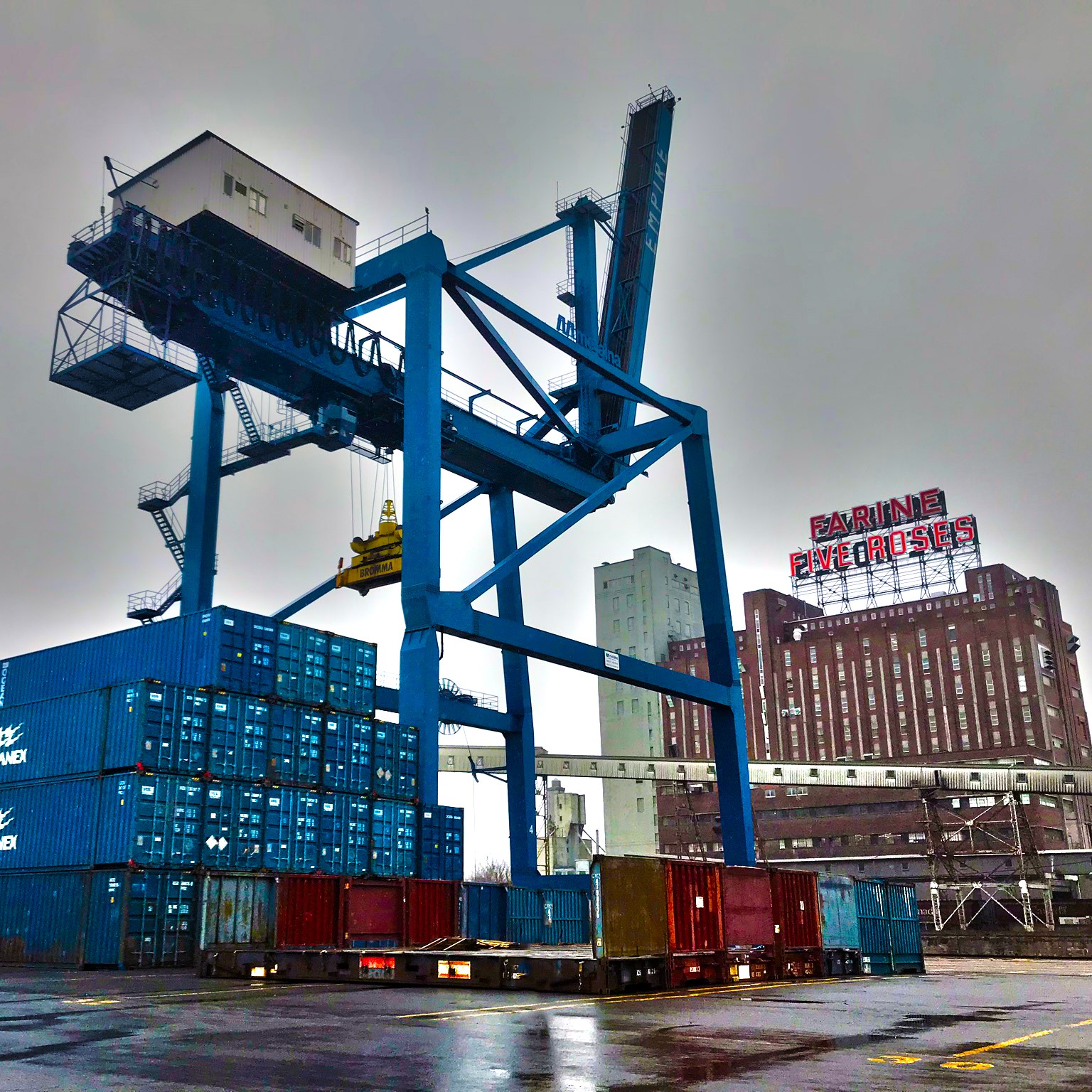 Redevelopment project of Bickerdike Terminal
Project to optimize facilities at the Port of Montreal's Bickerdike Terminal, built in 1896.
Project overview
As the main provisioning port to Newfoundland and the Magdalen Islands, supplied exclusively by local companies, every year Bickerdike Terminal handles close to 600,000 tonnes of diversified goods (such as containers, cars and trucks), in addition to serving cruise ships.
Redevelopment of truck access (traffic flow and security)
Increase and upgrade of electrical capacity
Replacement of buildings
Redevelopment of container and cargo storage areas
Redevelopment of handling areas for cruise ships
SUSTAINABLE PROJECT WORK
Reuse of excavated material to prepare a stabilized and solidified base for the pavement structure of the new container storage area
Construction of underground infrastructure for dockside electrical installations and power supply for heated and reefers (replacing the use of diesel generators)
Installation of 20-metre (instead of 30-metre) lighting towers with LED fixtures and baffles to reduce visual pollution
Installation of a retention basin and three hydrodynamic separators for storm water treatment
Landscaping at the entrance to the parking lot on Pierre-Dupuy Avenue
Planting of new trees between the entrance gate and the bicycle path
Energy performance measures for the Empire building on the terminal, such as electrification of the entire building (increasing its electrical input, eliminating the use of natural gas), a white and green roof, insulation beyond National Building Code standards, and the addition of occupancy sensors and low-flow water equipment to reduce consumption.

Project timeline
1896
Construction of the Port of Montreal's Bickerdike Terminal. Until the 1970s, port activities largely took place on this terminal.
May 2017
Grant of $8.3 million in financial support by the Government of Quebec under its Maritime Strategy to rehabilitate terminal facilities.
2018 to 2019
Start of project design phase
Summer 2019
Start of Bickerdike Terminal redevelopment work
2020
Build new entrance on Pierre-Dupuy Avenue
Install new gatehouse
Repair underground networks (water supply, sanitary, rainwater and electrical/telecommunication)
Repair railway network
2021
Redevelop truck access
Redevelop container and cargo storage areas
Install new electrical substation
Install and start equipment and switchgear in the new electrical substation
Build a parking lot for employees and cruise passengers (CTMA)
Install signs and complete landscaping
Completion of project works