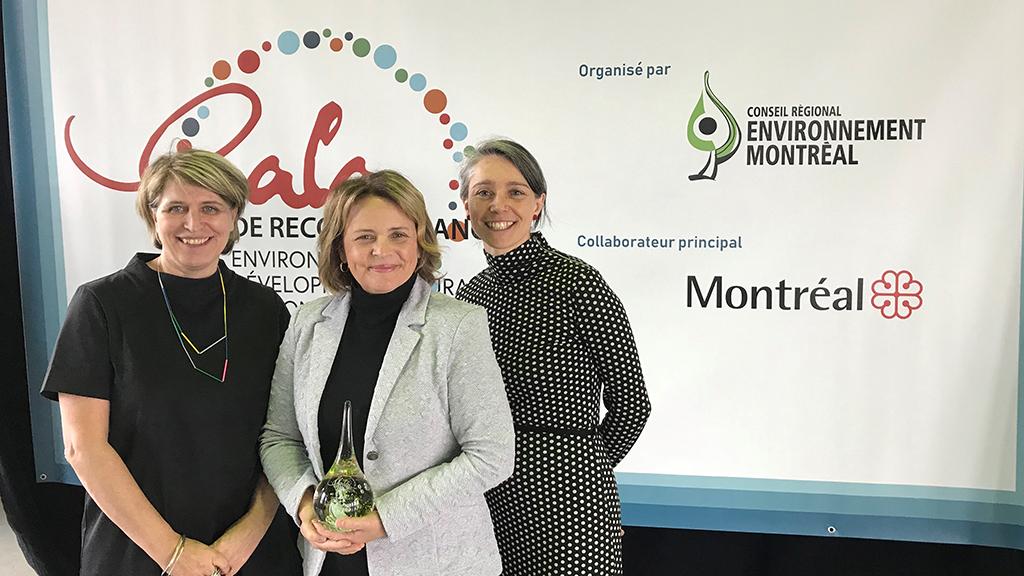 The Port of Montreal honoured at Gala Montréal durable for its new Grand Quay
Sonia Gagné, Partner, Architect at Provencher_Roy, Marie-Claude Leroux, Vice-President, Legal Affairs and Real Estate and Corporate Secretary at the Montreal Port Authority, and Josée Labelle, Associate, Landscape Architect at NIPpaysage.
The Montreal Port Authority was very proud to have received one of the most prestigious awards in sustainable development, the Corps Public award, at the 13th edition of Montreal's gala event honouring excellence in the environment and sustainable development, Gala Montréal durable, held yesterday at Marché Bonsecours. This award recognizes the MPA's efforts and involvement to integrate environmental and social objectives into its activities.
The new Grand Quay of the Port of Montreal, publicly inaugurated on June 3, 2018, after a huge makeover, stood out for its positive impact in terms of sustainable development, its landscape planning, its shore power system and its approach to connecting with the community.
The independent selection committee, set up by the Regional environment council of Montreal (CRE-Montréal), selected the winners from 68 projects carried out and submitted by partner organizations in the Sustainable Montréal 2016-2020 Plan.