Yves Gilson – Director, Marketing and Cruises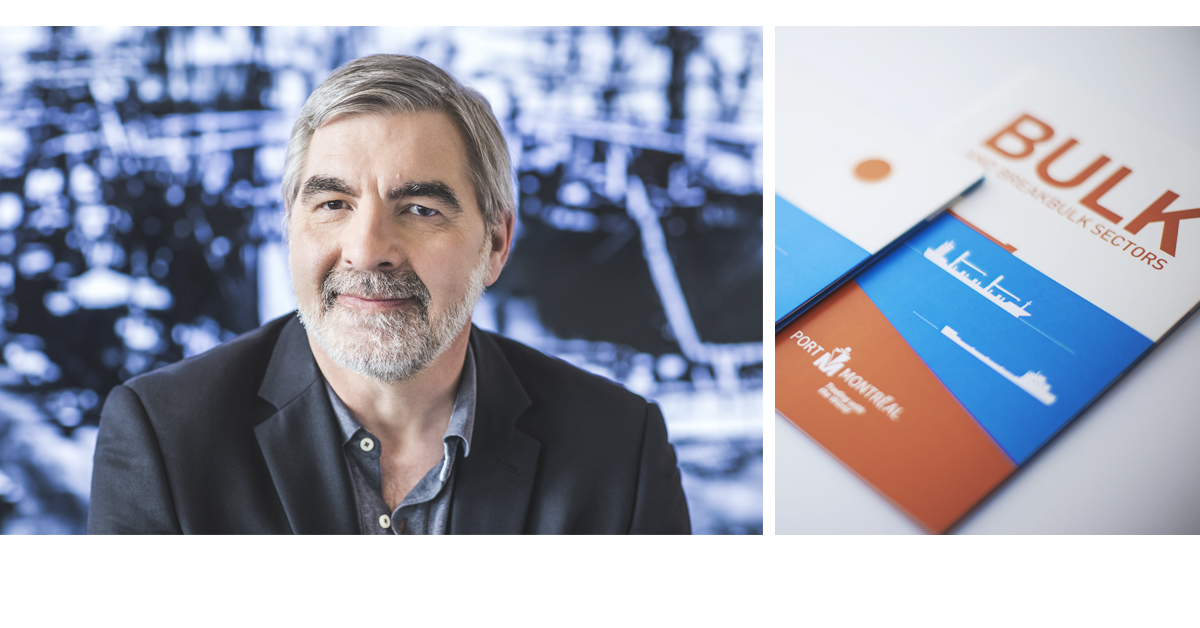 Yves has a somewhat unusual background and let's just say, he's not afraid of change!
He landed at the Port of Montreal in November 2008 as Communications Advisor and bounded up to the position of Communications Manager. A few months later, he became Acting Director of Communications and in 2013, was named Marketing Manager. In 2015, he was appointed to his current position as Director, Marketing and Cruises. That means he wears two hats here at the Port of Montreal! ?
In his marketing director capacity, he has the important task of promoting the Port of Montreal internationally. So, he uses every possible means to present our advantages: advertising campaigns, B2B website, LinkedIn accounts, brochures and more. He always keeps in mind that someone in India, China or Africa may not necessarily know where Montreal is even located and what its port's competitive advantages offer. It is up to Yves and the Growth and Development team to find ways to showcase our full potential to attract new clients.
On the cruise director front, he develops business. Naturally, the point is to keep our current clients who already chose Montreal as a destination while attracting new companies, whether for international ocean cruises or river cruises to the Great Lakes. He works closely with the Montreal Cruise Committee.
Now, let's look at his career path before he came here, which reflects his less than shy personality!
To begin with, did you know that Yves was born in Africa, in the Belgian Congo? At the age of two, his family returned to Belgium, where he grew up and earned his M.A. in Social Communications, specializing in Press and Information. He then moved to Washington, D.C. to work as a freelance journalist. He has written for Belgian publications and such Quebec publications as Revue Commerce business journal and the daily newspaper Le Soleil, in addition to freelancing as a radio correspondent for CJMS, now CKAC. A job at Affaires Plus business magazine brought him to Montreal. Six years later, he returned to Brussels as Program Director of a training institute for journalists. Work again led to a move, this time to Maastricht in the Netherlands, to the European Journalism Centre in a job that let him travel all over Europe. In 2002, he had the opportunity to become a European advisor on a media support program in Algeria. In parallel with this mandate, he headed the international development program at the Institut des Hautes Études de Communications Sociales (IHECS) in Brussels. He finally returned to Quebec in 2006 as Assistant Editor-in-Chief of SME magazine PMEs before moving to the Port of Montreal in 2008! He sure covered a lot of kg before he got to us! ?
We learned several things about Yves. He's a fan of reading, especially detective novels, and of basketball, which he played at the provincial level. He's on the Board of Directors of Théâtre L'instant, a little Belgian-Quebec theatre company based in Montreal. From October 23 to 26, the theatre is mounting Georges Feydeau's comedy Un fil à la patte, featuring a certain Director of Marketing and Cruises! The play is a fundraiser that brings together board members and more experienced actors on stage. Yves plays the very funny role, albeit small, of Ignace de Fontanet, a likeable man but with very dissuasive breath. Find out more at https://www.facebook.com/events/390276078560880/
Do you have any comments or questions for Yves? Write them in the comment section under the Facebook publication.
Meet Yves Gilson, our Director, Marketing and Cruises, Growth and Development