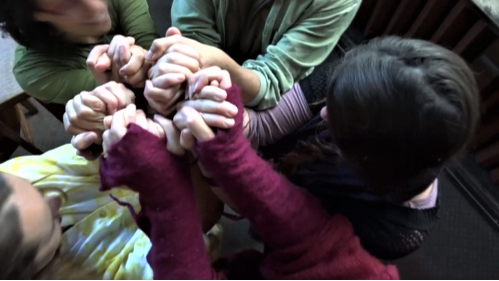 Women's Centre of Montreal: a resource for all women
"We help all women, whatever their age, origin, status, beliefs or needs," said Maud Briancourt, Assistant Director of the Women's Centre of Montreal. Established since 1973 on St. Urban Street, it serves a territory that extends well beyond the neighbourhood and even the city.
One location, multiple services
The four-storey Women's Centre reflects the nature of the services it provides: versatile and varied. There are classrooms, changing rooms full of clothes to choose from, a large kitchen, computer rooms, a daycare centre and many rooms dedicated to individual or group meetings. Each service provided addresses a broad array of circumstances and life situations.
"We welcome newcomers, Aboriginal women, Quebec women, women seeking employment, women who are victims of violence...," said Executive Director Johanne Bélisle. "Our mission is to help women help themselves and give them the tools to improve their own and their family's living conditions."
The numbers show at a glance how valuable the Women's Centre is as a resource! Annually, the team receives about 30,000 calls and a total of 40,000 requests, and every day welcomes about 100 women.
Keeping pace with changing needs

The most sought-after services are employability assistance and basic psychosocial services. But in its forty-six years of operation, the Centre has seen its services increase in number as needs evolve. Initially, it was a small organization created mainly for information purposes—writing about women's rights, advising and guiding women who were seeking resources. "Very quickly, the centre was overwhelmed with calls."
"Everything that we developed over the years as a service has been based on the social movement," said Johanne Bélisle. "We have set up services for sexual violence, as well as court support services for domestic violence cases and employment assistance services in non-traditional occupations."
#metoo
Recently, for example, the #metoo movement changed the situation by raising awareness and empowering women to speak out on the issue of sexual harassment and aggression. "We support them on their journey, sometimes for several years, to recover their self-esteem and regain control of their lives," said Johanne Bélisle. Thanks to the expertise of its staff, the Centre instituted drama and art therapy programs, which have resulted in exhibitions and collective creations.
Newcomers
In their Mother-Child Program, adapted for pregnant women and young mothers, the needs are different: isolation is broken. "We open the door to fitting in, learning French and creating a mutual aid network." French classes have a fun aspect, like learning Celine Dion's song lyrics, which the small group sings with a smile on their faces. Meanwhile, the children are entrusted to Paola and Dejanit at the daycare centre on the ground floor of the building. These two warm, colourful rooms are amply equipped with games of all kinds. "We know they are safe," said Rima, a young participant in the group who proudly practiced her newly learned French with us, "and at the same time, we are being helped to find a job".
Fifty years: new career, new challenges
Turning to employment assistance, the workshops, offered mainly to women age fifty and over, target other realities. "These are women who already have some experience, who are at the midpoint of their lives and who want to rethink their career paths." The program available to them bridges the gap between skills assessment, IT consolidation and ESL upgrading. "This type of workshop really has a purpose," said Lucie, a workshop participant. "Even if you have experience, you look at a job offer and often there are many things you don't know, like a certain software or computer tool."
What do they like best about these workshops? "It's the human warmth that makes the difference. We arrive here demolished internally. It's like a house, a refuge." The key to success lies in the team that supports the various services: a permanent team of 50 employees and a good 600 volunteers, including 140 regular volunteers. "The Centre would not be what it is without the support of many volunteers," said Maud Briancourt. "It's a beautiful human chain of solidarity that has lasted for more than forty-six years!"
The Port of Montreal has proudly supported the Women's Centre since 2012, and is responsible for the preparation and distribution of Christmas baskets to about 750 families every year.
Galerie photo