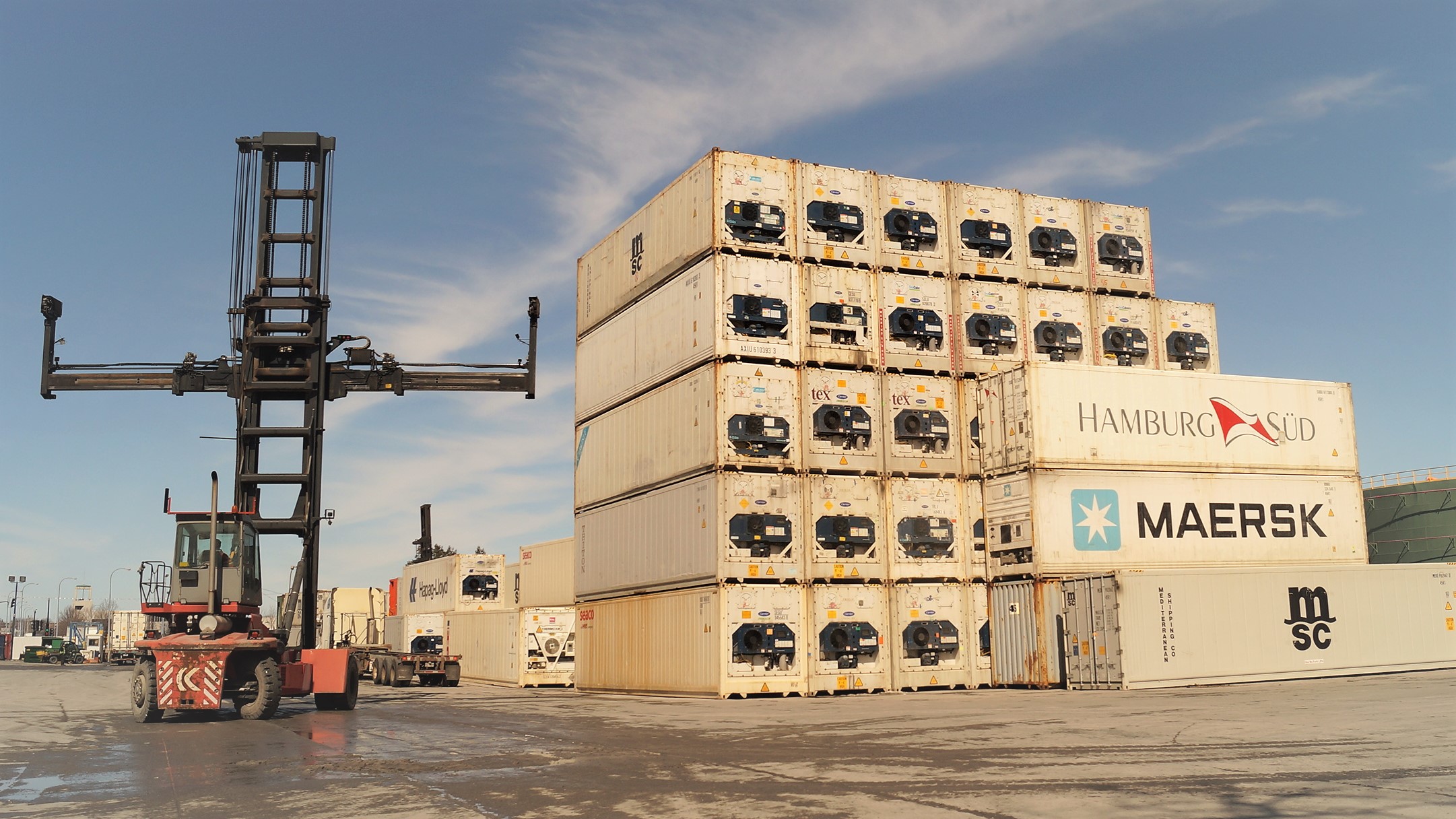 Refrigerated containers: a specialized sector in full growth
As we know, the number of containers transiting through the Port of Montreal keeps increasing, but refrigerated containers, also known as reefers, are not only increasing, they're booming. By that we mean a 200% upswing in five years, and 115% in 2018 alone.
The cold route
Spearheading this expansion is the Hunt Refrigeration family business. Headquartered on Notre-Dame Street, it provides storage, repair, maintenance and rental services for refrigerated containers. "At first, we were talking about 50 refrigerated containers a week," said Yanik Espey, Vice-President of the company co-founded by his father in 1985. "Today, we're always at full capacity with about 800 refrigerated containers on shore every day." The company has opened offices in Toronto, Calgary and British Columbia.
Exotic fruits, wine, cheese, Christmas trees, meat, beauty products and medications are on the long list of products that use this type of equipment to cross the oceans, and reefers keep pace with the seasons. During the cold seasons, we import fruits and vegetables, then at the end of the summer, we export local products.
Why has this become so popular? "Consumption habits are changing," said Yanik. "We consume and import more and more." The top products affected by this growing demand are wine and cheese imported from Europe, since trade ties were recently strengthened thanks to the entry into force of the free trade agreement. On the export side, it appears that our local products, such as apples, strawberries and even our cosmetics, are gaining ground in foreign markets.
Did you know that vaccines, live lobsters and aerospace parts also have to travel at a constant temperature? Among the unusual products shipped in refrigerated containers, "we have even exported ice from the St. Lawrence in refrigerated containers to the south. It has perfect transparency for making ice sculptures. That makes it a product sought after by some tourism stakeholders."
How does it work?
Even though we call them "refrigerated" containers or "reefers," it should be noted that this involves both heating and cooling, because the whole point of these containers is to maintain what's inside at a constant temperature. A cargo of wine will suffer from both intense heat and cold, so it must be protected from temperature fluctuations. Each product has its own setpoint. For example, pharmaceuticals should remain at 22 degrees Celsius, ice cream at -23 degrees and bananas, between 13 and 14 degrees.
Each reefer is equipped with a temperature control system, capable of maintaining temperatures from -300 C to +300 C, and must be electrically powered at all times. It can be connected to train cars as well as ships, trucks or terminals, where it may be powered by diesel generators or a connection system. Hunt Refrigeration is currently making major renovations to completely switch from diesel to cleaner and quieter electrical systems. "We plan to be 100% electric by the end of the year," said Yanik Espey.
Goods unlike any other
Once on site, the watchword is speed. "A reefer containing fresh fruit or frozen meat cannot be stored for long at the port. Refrigerated containers are premium cargo. As soon as they arrive, they must leave as soon as possible." Smoked fish, for example, has a shelf life of two weeks. "There's no point in it losing time stored on the terminal."
Right through their itinerary, reefers are checked over and over to ensure that there are no defective components. The slightest deviation can render the goods worthless. "Between each trip, we check the container, the generator and the regulation system."
A defective reefer does not support any delay in processing. To accelerate repair times, the company relies on its team of specialized technicians and its vast inventory of repair parts. "This is the key to speed: all spare parts are in stock. It's a matter of mechanics. We know it will break down sooner or later. What counts is knowing how long it will take to repair. That's why we're here!"
What does the future hold? Projects to get even faster and more efficient. Between improving facilities and optimizing the supply chain, everything is in the works to support this hot market trend that shows no signs of cooling down.