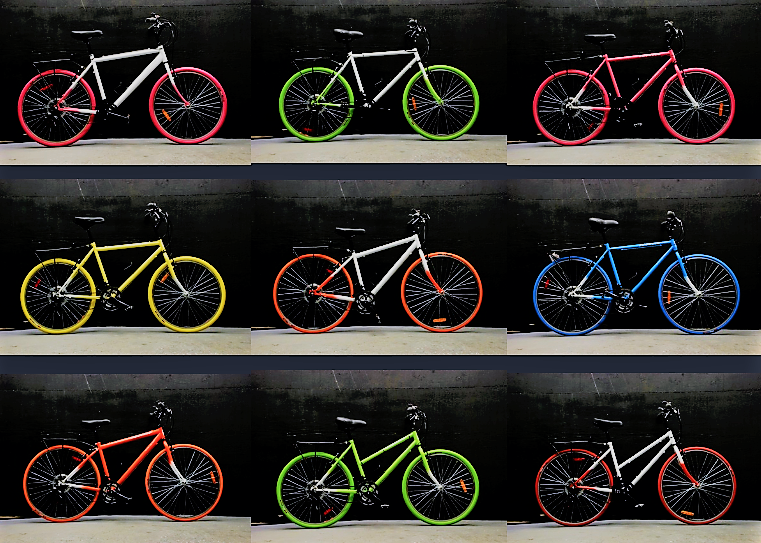 SOS Vélo: a company that stays on course
Based in the Hochelaga-Maisonneuve district, SOS Vélo has been tackling the problem of professional reintegration since 1995 with its flagship product: the ecovélo ecological bicycle.
Those who set foot in SOS Vélos workshops come from all different backgrounds, for example someone who has struggled with addiction, the person who lost his job when the factory where he worked for 20 years closed, someone who lives with mental health issues or a person whose poorly cared for ADHD made him drop of out school early. What they all have in common is they were sidelined from the job market and have trouble getting back into it.
The SOS Vélo gamble? No need to have any knowledge of mechanics, a specialized degree or a great CV to successfully complete this reintegration program and get back on track to employment. The prerequisite? The willingness to try. People start from there … and they succeed.
26 weeks in tandem
The program is multi-pronged and spread over 26 weeks. Of the roughly 3,000 to 4,000 bicycles donated every year, a third is refurbished and resold as used, a third is fully dismantled for parts, and the remaining third is recycled and converted into bicycles known as écovélos. The frame, fork, handlebars, seat post, stem and derailleur gears are recycled, while all other parts are new, notably the wheels, chain and braking system. Lastly, the bikes are repainted in bright colours to offer a product with a distinctive look. The different stages of this work ensure that there are multiple employment possibilities, from painting, welding and sanding in the workshops through to retail sales.
Meanwhile, the recipe for success is not rocket science. "Clear guidelines, clear expectations and positive feedback when things go well. It's tremendous what people can do when we give them positive reinforcement," said Guy LaRocque, General Manager of SOS Vélo. And the skills develop quickly, leading to a sense of confidence. The organization's top priority is to break the spiral of failure. "Right from the start, we make them ride a bike so that their first work experience is a success," he said.
Objective: establish the bond of trust
For Guy LaRocque, that first contact can make all the difference. "In the interview, candidates are often really nervous and already used to failing. Our priority is to establish a bond of trust. So when a candidate comes in motivated, he makes sure not to let him go. "I suggest that he start the next day, so he doesn't have time to change his mind!"
To get them ready to return to the job market, working on social skills is just as important as the experience gained in the workshop. "Some people come here with very low self-esteem and can't always communicate well with others." So, aside from the sometimes solitary workshop work, employees are encouraged to introduce themselves to others and take part in common activities. As far as personal problems are concerned, meetings with external psychologists are offered to those who feel the need, with complete confidentiality.
Success stories to share
The results are convincing: 90% of those who finish the program find a job afterward and 10% go back to school. "They see that they can learn in a non-school setting and it gives them confidence to go back to school."
Lots of great stories also result. Guy LaRocque, who has been at the helm of the organization from the outset, has seen so many people go through the program, and is always happy to see his former employees progress. One has now set up his own business, another is the manager of a large grocery store, one just bought his first house and moved in with his family, one works in a pharmacy. "They call me when they get their first car, when they get their first "real" job or when they get married. They're proud to share their success."
In the end, it is a "wonderful company that exists thanks to the support of the general public. We have a clientele that believes in our mission." It is a clientele of individuals and businesses, just like the Port of Montreal, which this year bought écovélos as part of an in-house sustainable mobility initiative.
To find out more, visit sosvelo.ca (in French only).