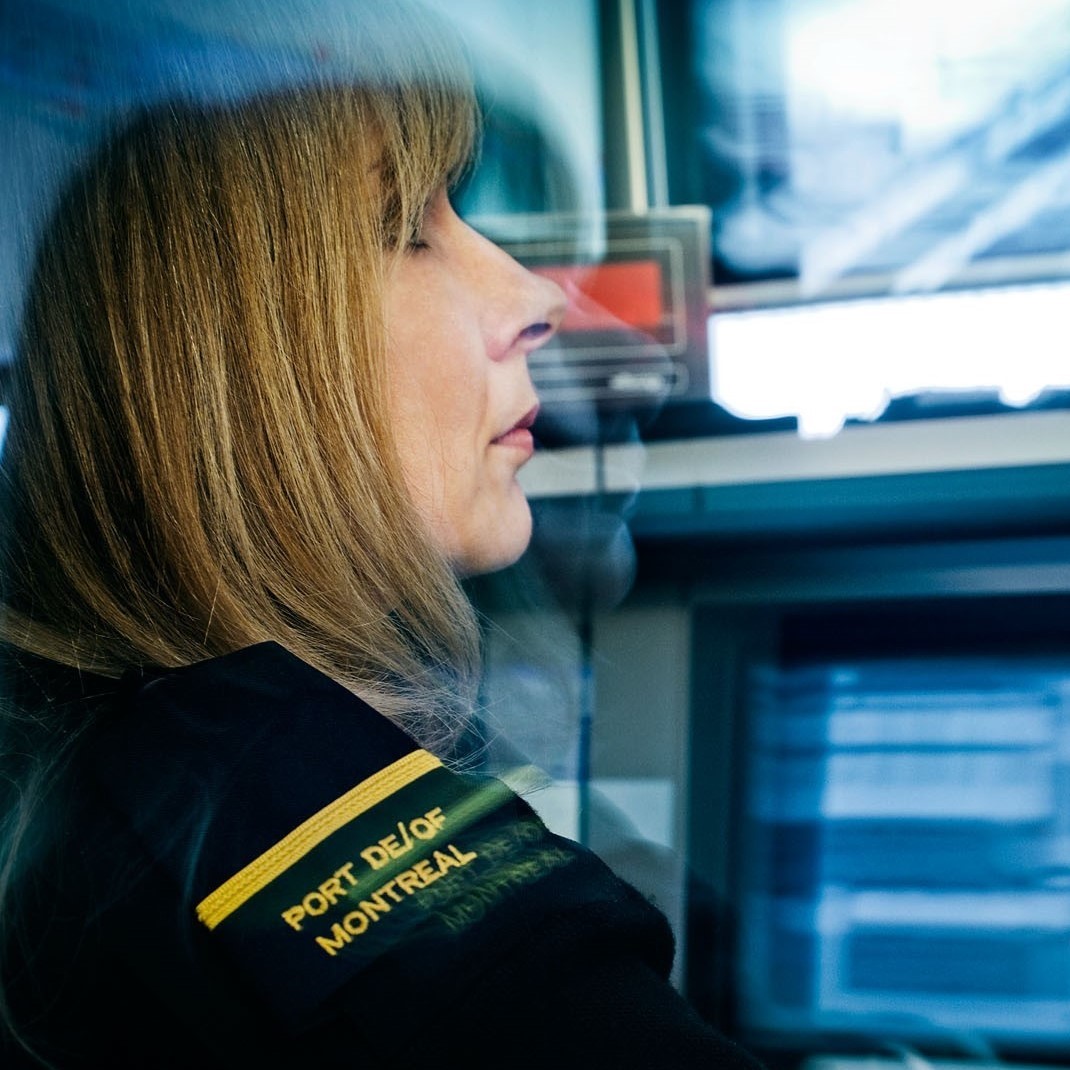 Getting the marine industry shipshape: a sea change for women
Stevedores, pilots, crane operators, checkers… The image of a traditionally male industry is gradually becoming more female.
"Women bring bad luck aboard ship" is a myth of days gone by that was so persistent that, historically, women were excluded from shipping and even banned aboard ship. The only female presence was the figurehead on the ship's bow.
Tentative development
Though a traditionally male environment, the marine industry has a growing proportion of women in its workforce. But whether because of persistent prejudices or a lack of knowledge of career possibilities, this change involves some reluctance on both sides. "We're trying hard to attract women with our campaigns to promote maritime careers, but we are aware that we're working on the long term," said Claude Mailloux, Executive Director, Human Resources Sectorial Committee of the Maritime Industry (CSMOIM).
Whether in the seagoing trades as captains, pilots, mechanics and seafarers, or on land as stevedores, checkers and crane operators, the marine industry only started opening to women very recently, and except for administrative jobs, quite tentatively. "Things started opening up very gradually after the year 2000. Women's presence is getting stronger, but very slowly," said Claude Mailloux. "Those who make the leap are still pioneers."
In Canada, women account for 7.6% of seafarers, 6.8% of deck officers and 5.7% of stevedores and longshore workers. The number drops to 2.3% for captains and below 1% for mechanics and electricians. "For sure it's still very few," said Catherine Mérineau, Crew Supervisor for Oceanex. "On one of our vessels now, there are three women in a crew of 32. On another, none."
Persistent biases
Among the obstacles encountered, first and foremost are the biases, especially regarding physical strength for certain trades, such as helmsman, or jobs in the engine room. "In some cases, the equipment is really heavy and hard to handle. This can be a problem for some women, and it keeps the prejudice going," said Catherine Mérineau. On the other hand, motherhood remains hard to reconcile with work at sea. "Often, after they have a baby, they leave the ship."
In the late 1980s, the International Maritime Organization recognized the need to strengthen the number of women in the marine profession worldwide, and developed its first strategic plan on this issue. Several initiatives have emerged over time: encouraging the hiring of several women aboard a vessel at the same time (a woman who serves at sea cannot be the only woman on board); specific clauses on pregnancy and maternity leave in employment contracts, particularly concerning preventive reassignment; work-life balance measures; and sleeping spaces specially reserved for women on vessels. The objective: ensure that women who dream of a career in the marine industry can pursue it in the best possible conditions.
A shared passion for the sea
Despite everything, on land and at sea, the barriers are falling. "Crews are getting younger," said Karine Racine, Chief Officer for Oceanex. "As new generations arrive, minds are more and more open."
Furthermore, with automation and the growing use of electronics, there is less need for muscles and physical strength, and a greater need for concentration and precision. According to Manon Comtois, longshorewoman at the Port of Montreal, what's needed most "is endurance." As for everything else, "if you do your job, there's no problem and people are respectful." Over her 23 years on the job, she has been able to observe the progress. "There were only five or six of us when I started. Now we number about 150."
At present, they are generally unanimous in their view of positive developments, particularly among Canadian crews. Even internationally, where cultural differences can be an obstacle, "mentalities change, because there are more and more women aboard ship," said Karine Racine, "but this process can't happen overnight."
There are all kinds of reasons women are attracted to the marine industry: the desire to travel, the pleasure of working outdoors and the professional challenge, among others. For Manon Comtois, it's the machinery. "I've been operating tower cranes for eight years. Before that, for 12 years I was on the transtainers, and I loved it!" For Karine Racine, nothing beats life aboard ship for the beauty of the landscapes in the background, the absence of routine and the quality of team spirit. "I couldn't be happier," she said. "We can't let prejudice against women stop us. When you want something, everything is possible. We won't give up!"
To keep making waves, the key factors are training and awareness. Given the swelling numbers of women enrolling in the Institut maritime du Québec, everything suggests that this sea change is far from slowing down.
Karine Racine, Chief Officer for Oceanex
Manon Comtois, longshorewoman at the Port of Montreal